Looking for a creative and festive way to present mini liquor bottles or hand sanitizers as stocking stuffers or gifts this holiday season? Look no further! I'll show you how to assemble these adorable mini liquor gift boxes designed by Crafty Christie's Creations. These bottle boxes are perfect for adding a touch of charm to your holiday gift-giving. Let's get started!
Supplies:
Mini Liquor Gift Boxes SVG
Cardstock
Glue
Foam Squares
Velcro
Cutting Machine
Step 1: Prepare the Main Box
Locate the main box template, which consists of two pieces. Carefully fold along the score lines provided on the template to create clean and precise folds. Don't forget to fold the back wall of the box as well.
Step 2: Assemble the Main Box
Now, take the two main pieces and overlap them at the edges. Then, fold them up into a box shape. This straightforward step creates a sturdy base for your mini liquor bottle holder.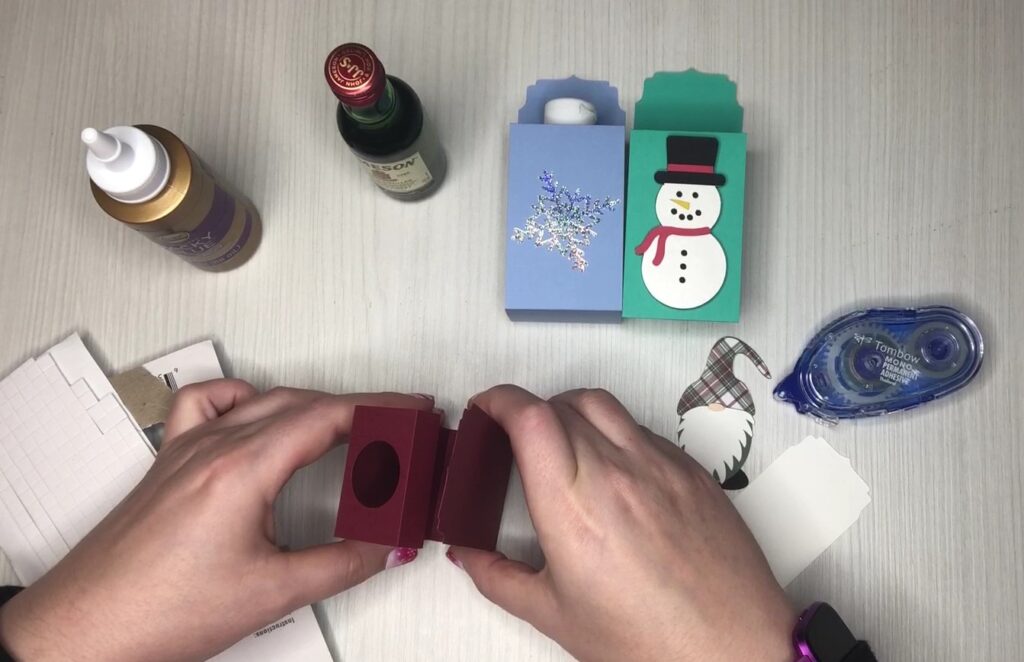 Step 3: Add the Back Piece
The back piece of your bottle gift box is optional but ideal for adding a personal touch or a heartfelt message. Align this piece with the back of the main box, making sure to maintain an even border along the top. Apply adhesive to the back piece and attach it securely to the main box.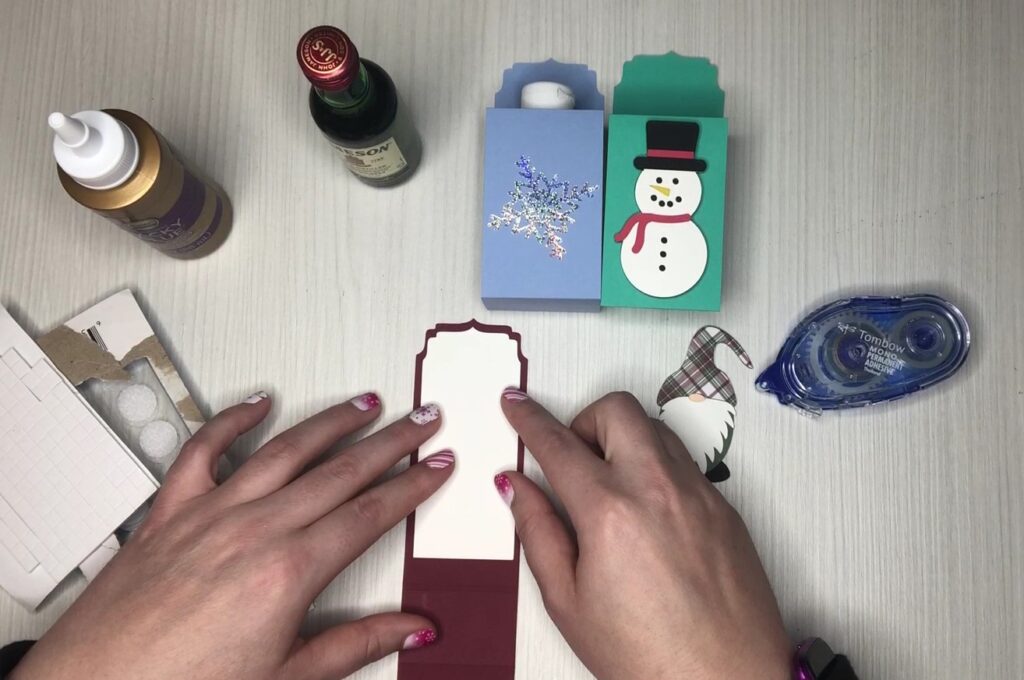 Step 4: Decorate with a Figure
It's time to add the paper-crafted figure (in this case, a gnome) to the front of your liquor gift box. To give it some dimension, use foam squares generously on the back of the figure. Carefully peel off the backing from the foam squares and place the figure on the front of the box, aiming for a centered and balanced look.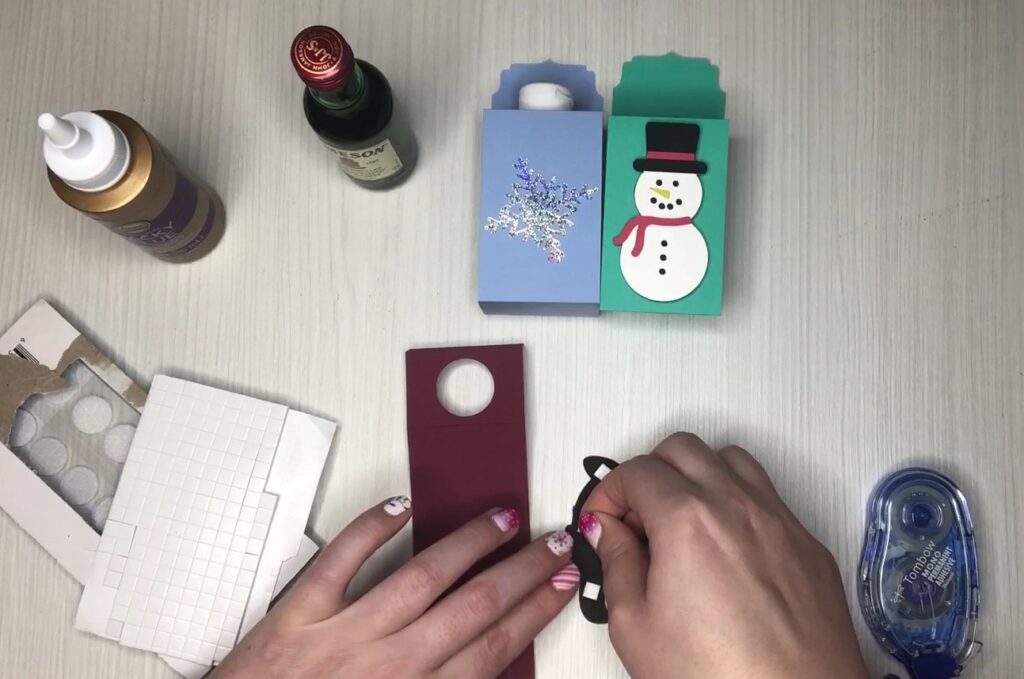 Step 5: Ensure Easy Bottle Access
To ensure easy access to the mini liquor bottle or hand sanitizer inside, consider adding a Velcro fastener dot. Cut the Velcro dot in half and remove the backing from one side. Place it strategically near the bottom edge of the front flap. Take the other half of the Velcro dot and press them together. This will allow you to securely close the box while making it easy to open when needed.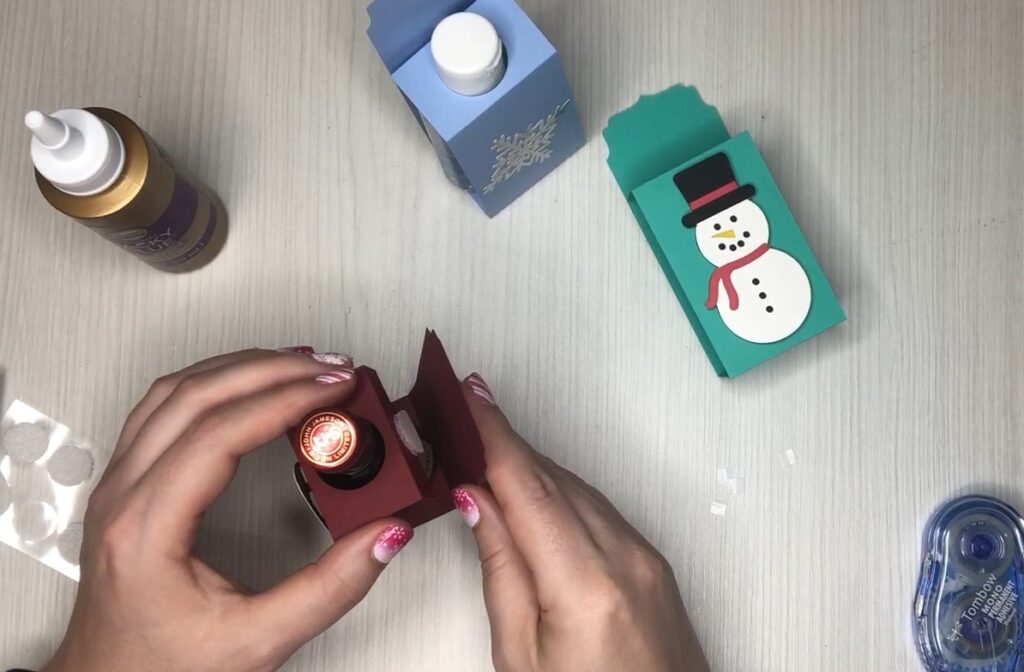 Step 6: Final Touches
Insert your mini liquor bottle or hand sanitizer into the box, ensuring it fits snugly. Fold the top flap down and ensure it's level. Finally, press the Velcro dots together to seal the box.
Congratulations! You've just created a charming and practical mini liquor bottle gift box that's perfect for spreading holiday cheer. These adorable bottle boxes make excellent stocking stuffers or gifts for friends and family. Feel free to get creative with your paper-crafted figures and personal messages. With these step-by-step instructions, you can easily assemble these delightful mini liquor gift boxes and add a touch of festive magic to your holiday season.